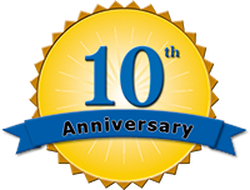 The past 10 years have been an amazingly exciting and successful time for us. Today we proudly look back at a fantastic number of customers worldwide, who are effectively using our imaging product range from FSI Server to FSI Pages to optimize the display of their on-line imagery and e-catalogues. Using Rich Media applications in on-line shops used to be rather exotic when we introduced the first version of FSI Viewer back in 2002.
The outstanding acceptance of FSI Software in the market and the great support by our sales partners has helped NeptuneLabs to become a world leading software developer in the field of single source imaging.

Our 10th anniversary is probably the best opportunity to present a time-limited offer, you shouldn't miss out on!
We are offering discounted prices on all FSI Software licenses. This offer only applies to new purchase orders of the FSI Products listed in the special "Anniversary Price List", which have reached us by the 31st of August 2010 and is not combinable with Cross-Updates or any other discounted prices. If you are unsure if the special prices apply to your purchase order, please drop us a line or give us a call and we will clarify any queries.