[one_third valign="top" animation="none"]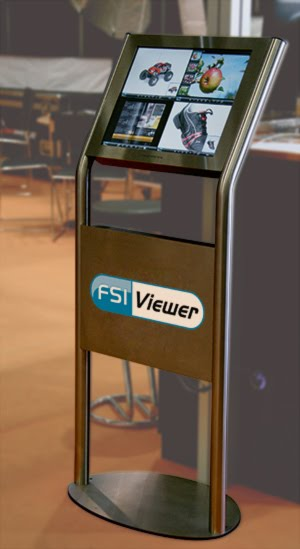 [/one_third]
[two_third_last valign="top" animation="none"]
Are you planning a marketing- or advertising campaign in the near future? If yes, then why not rent the FSI Touchscreen-Terminal for your next exhibition or trade show and allow your visitors a real "feel" of the FSI Viewer and all the FSI Add-ons!
FSI Viewer at your fingertips
Present the FSI Software at your next trade show with a difference and stand out from the usual leaflets and brochures.
Open a publication with FSI Pages and flip through as if it was the real thing or spin a 360° object with FSI Viewer 3D to view to from all sides. Enlarge a desired area by simply using your fingers. All features and functionalities of FSI Viewer and its add-ons are presented on the FSI Touchscreen-Terminal.
How about presenting your own images, catalogues or 360° spins on the FSI Touchscreen-Terminal?
No problem, simply provide us with the source images, we will do the rest and have everything installed for the upcoming show!
Contact NeptuneLabs for bookings, not forgetting to have the following details at hand.
when do you need the FSI Touchscreen-Terminal?
how long will you need it for?
will you pick it up or shall we send the terminal to you?
at which exhibition or trade show will you be?
when will the terminal be returned?
Do you require more information?
sales@fsi-viewer.com
+49 5261 287320
[/two_third_last]