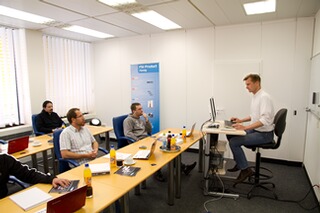 In our new office we now have the possibility to offer FSI product trainings. We are currently working on a variety of training courses aimed at resellers, administrators, end users and developers. Some of these trainings will be scheduled as one-day courses, others will require two days. All courses will be limited to a small amount of participants and will give enough room for personal discussions and special questions.
The training room is equipped with a full-HD projector and offers enough space to comfortably seat all participants. Of course a wireless network is available to every visitor.
The courses will be held in English or, if required, in German. Prices and other details will be available in the next couple of weeks.