We have embedded a new and powerful user account system on our new website – with your NeptuneLabs account you are now able to display and manage all relevant data such as quotes and invoices as well as your company and user account information in one place.
The account also offers an overview of your NeptuneLabs licences and enables you to generate your licence keys directly in the Licence section of your account. You are also able to contact our support team directly within the account menu.
[one_half valign="top" animation="none"]
Within the user account you are able to:
view and edit your account and organization information
add users to your customer (organization) account
view and save your quotes as PDF
keep track of your invoices and their status and save them as PDF
see a comprehensive overview of you current used licences and corresponding information (software maintenance status, expiry date, …) as well as your licence history
generate licence keys for your NeptuneLabs products
contact our support team directly and conveniently
[/one_half]
[one_half_last valign="top" animation="none"]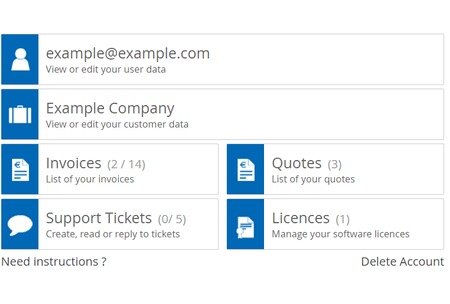 [/one_half_last]
We are working on adding even more powerful features to your user account in the future.
Feel free to try out the benefits of your new user account right now!
If you already have created an account in the past, you can sign in with your existing credentials. If you do not have an account yet, you have the possibility to create one at the Login site.
In order to get started and for more information upon the user account system, please visit our FAQ.