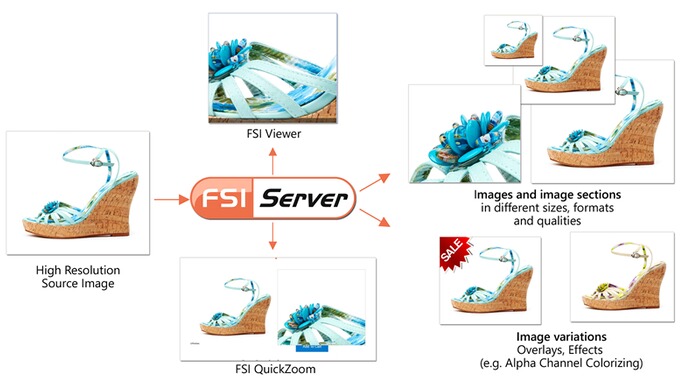 All images in any size, any time
Once you start using FSI Server for images on your website, you can go far beyond using images in different sizes without the need for batch processing or manual image preparation. Start making your images truly dynamic!
Our FSI Viewer product range uses the benefits of Dynamic Single Source Imaging – you can instantly use FSI Viewer, which delivers outstanding zoom and spin image quality to mobile devices as well as desktop computers. Add FSI QuickZoom to allow desktop computer users to explore your images in all details or FSI TouchZoom to enable touch device users to experience sharp images displayed in the resolution matching the current magnification. Additionally, you can adapt the initial image dimensions to the user's display size. This is why Single Source Imaging is extremely powerful when it comes to responsive web design, making blurred images on mobile devices a thing of the past.
For the great majority of websites images are crucial and the first thing visitors notice. With FSI Server you get the tools in your hands to present your images in the best way possible.
---
The powerful key to delivering all of your images fast and cost effective.

A normal e-commerce website needs to provide each product picture in different sizes and variations: a scaled version for the product overview, several thumbnails, a full high-resolution detail view for the product page, a modified version marked with a sale tag, a different color, etc. Depending on the amount of products displayed on the website, this can lead to thousand of images which need to be stored and made manually.

Using FSI Server with our Dynamic Single Source Imaging technology (SSI) you only have to provide one high-resolution source image for each image used on a website. FSI Server dynamically generates images in different formats, dimensions and qualities on-the-fly.

The variations are retrieved by a web application directly from FSI Server using HTTP queries. FSI Server provides an extensive range of HTTP commands allowing full control over the delivered image data.
---
How can FSI Software improve your website?
The usage of Real-Time Dynamic Imaging will save you a massive amount of time, storage and cost. Combined with the benefits of the different FSI viewers you can unlock the full potential of image usage on your website – for desktop computers as well as for mobile devices. Have a look at the sample below and see the difference:
Normal image




Dynamically generated image
with FSI TouchZoom

Same image presented with FSI Viewer

This image is embedded as a static image. If you zoom into the site using a touchscreen device, the image becomes blurry.


This image is dynamically generated by FSI Server and automatically adapts to the zoom scale if you zoom into the website with a touchscreen device.


Adding the extensive zooming functionalities of FSI Viewer improves the customer experience even more. Use the zoom buttons or click on the image to use FSI Viewer.