Images make the world go round – present multiple images attractively on almost all devices.
FSI Imageflow allows you to display multiple images on your page using a carousel like display. It enables customers to scroll through your images by hovering over the thumbnails within the image carousel.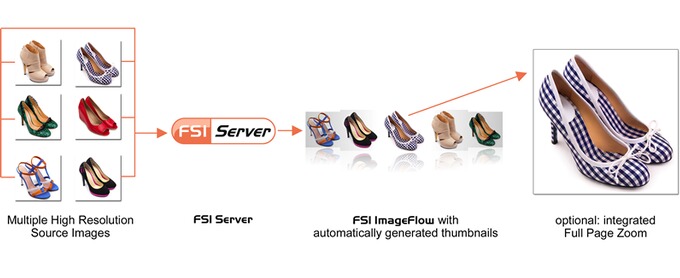 ---
Create beautiful responsive slideshows in no time.
FSI ImageFlow integrates the benefits of zooming into a new, quick and easy way of displaying large image collections on desktop computers and touch enabled devices. The JavaScript based image carousel with built-in mirror effects and optional full page zoom offers a perfect solution for presenting hundreds of high-resolution images on the fly on non Adobe Flash™ devices, such as Android™ and iOS™ cellphones and tablets.
The image carousel can be seamlessly integrated into your website, enabling your website visitor to get a perfect overview of the image collection within seconds. An optional scroll bar below the images provides quick navigation with large numbers of images.
---




Combine FSI ImageFlow and FSI Viewer JS for an elegant gallery presentation.

FSI Showcase JS combines the benefits of the zoom viewer with an image gallery.

FSI Viewer JS and FSI ImageFlow can be combined for presenting a large amount of images in a gallery. FSI ImageFlow is placed below FSI Viewer and can be used for browsing through the images. By clicking on an image, it will be opened in the FSI Viewer JS where every detail can be explored.

---
Benefits at a glance:

Elegant solution for presenting large collections of images
Brings carousel/slideshow function to desktop computers and touch enabled devices
Seamless integration into your website
Built-in mirror effects and optional full page zoom
fast and easy publishing
Customizable