Easy to use on any device.
FSI Pages offers an intuitive interface which makes flipping through a high-resolution publication a breeze on all devices.
Dynamic sizing on all devices.
The state-of-the-art technology provides responsive, interactive and great looking catalogs for desktop computers and mobile devices..
Interactive options.
The viewer comes with realistic page turning effect, page index, hyperlink integration and chapters and bookmark functionality.
No additional publishing costs.
The viewer is included our dynamic imaging server solution which offers tons of features to unlock the full potential of your image presentation.
See how easy it is implemented:
Integrate your online catalog seamlessly into your website.
FSI Pages offers a most convenient way to create an interactive catalog with great usability and comfortable features in no time for desktop computers, smartphones and tablets.
The JavaScript-based catalog viewer provides a minimalist and highly-customizable user interface which can be adapted to your liking via CSS.
The viewer is included in FSI Server, which makes your publications unbeatably fast: you can remove, add or replace pages any time and the users will be presented the modified content, without any delay.
What FSI Pages offers:
Only a single high-resolution source image per page required

Responsive Design – looks great on any device

Realistic page turning effect

Automatically generated page index

Hyperlinks for advanced information

Optional chapters functionality

Interactive bookmark option

Easily customizable via CSS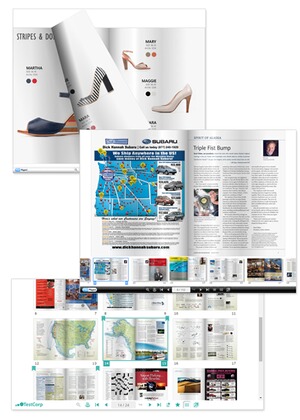 How to easily publish your publications on all devices.
FSI Pages is included in FSI Server. After downloading and installing the software, publishing interactive online catalogs across all platforms is incredibly easy and takes just a few clicks. If your publication is a PDF, you need to convert the document into images beforehand. This can be accomplished with software like Adobe Acrobat and Adobe Photoshop.
1.

Upload Your Images

Open the 'Upload' Tab and upload your pictures to the web interface via Drag & Drop or by clicking the Browse button to add files.
2.

Choose FSI Pages

Within the 'Publish to Web' Tab you can choose from a variety of viewers based on JavaScript. Choose "E-Books/ Catalogues" from the presets on the right in order to publish a catalog.
3.

Paste Codesnip To Your Site

Copy the HTML code which is displayed within the publish dialogue and simply paste it into your website in order to implement the viewer.