Image Management & Publishing
Everything you need for fast and interactive online image management and presentation.
Dynamic image publishing & delivery
Change the dimension, format and quality of your images on the fly with the convenient web interface. The Dynamic Single Source Imaging technology ensures an optimal, fast and consistent display of images regardless of the type of device.
Modern formats, responsive integration
Dynamic Content Negation lets you deliver the optimal image format regardless of which device or browser is used. Choose the perfect balance between image quality & file size with modern image formats such as WebP.
Zoom, interactive 360° views & catalogs
Deliver outstanding zoom and spin image quality to every device. Responsive touch image zoom, flyout zoom, interactive galleries with zoom, image grids or e-catalogs – you can add everything with a few clicks in the web interface.
Unlock the full potential of your website image presentation.
The intuitive web interface enables you to add the images and viewers to your website in no time. In combination with traffic servers you can benefit from the use of automated content negation and SEO-optimized images to keep your website state-of-the-art.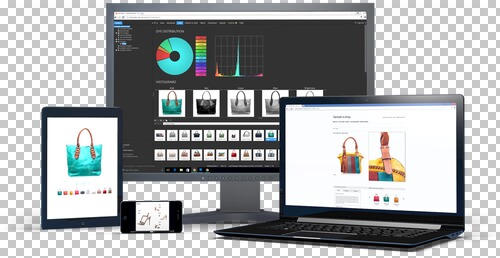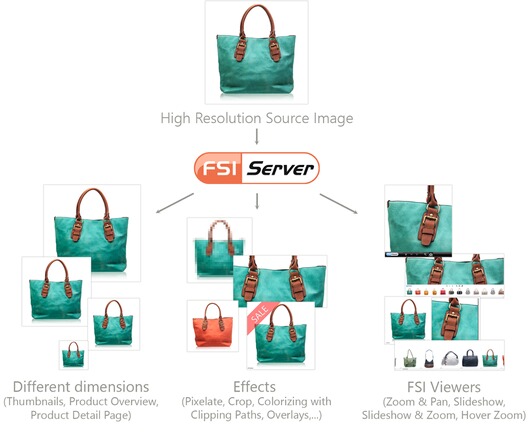 Use only one image source for all required variations.
No need to manually generate thumbnails or color variations of the same product anymore: You only need to provide one high-resolution source image – all variations are created dynamically on the fly. For a quick demonstration, have a look at our Dynamic Imaging feature.
All images and website-related assets in one place
The image server can handle millions of source images and a virtually unlimited number of image requests.
Besides images, you can additionally manage and serve assets such as PDFs, music, and video files, which can be addressed via a simple URL.
Seamless integration into your existing workflow
You only need to add the generated image request URL or code snippet to your HTML document.
FSI Server can be integrated into a wide range of CMS, DAM or PIM systems using the extensive FSI Server Open API.
Tailored to your needs: Choose between On-Premises or SaaS
We offer flexible editions covering everything from small to large businesses. You can choose to install the software on your own hardware or use dedicated servers or shared hosting services provided by us.
Facts
High performance Java Web Application

Designed for outstanding scalability (multi core CPUs, multi server setups, load balancing)

Publishing options for a great variety of JavaScript viewers (Zoom & Pan, Spin & Zoom, Catalogs, Hover Zoom, Slideshows)

HTML/AJAX based web interface to upload, manage and publish images

Single Source Imaging (JPEG, WebP, PNG, GIF or Animated GIF images for web sites)

20+ image modifiers (effects like sharpen, lighten, darken, blur and many more)

Support for transparent images (alpha channel)

Support for gigapixel source images

Source image pools will not be modified and performance is independent of the source image format.

Open Java API for integration into DAM, CMS or similar systems
System Requirements
General System Requirements:
Operating system capable of Docker Images to run Linux-based Docker containers
Minimum System Requirements:
Dual Core CPU or better
512 MB RAM per CPU core
Recommended System Requirements:
Cores / Threads: 4 or better
4GB Java-VM RAM or better
512 MB per Thread