Product presentations on any device.
FSI ThumbBar allows you to display multiple images on your page using an intuitive slideshow display.
Combine it with FSI Viewer for in-depth zoom.
FSI Viewer and FSI ThumbBar can be combined for presenting a large amount of images in a gallery.
Intuitive and seamless slideshows.
The thumbbar can be seamlessly integrated into your website, enabling your website visitors to get a perfect overview of the image collection within seconds.
Included for free in the FSI Server software.
The Thumbbar is included our dynamic imaging server solution, so no additional costs apply.
See how easy it is implemented:
Elegant slideshows on every device in no time.
FSI ThumbBar integrates the benefits of zooming in a new, quick and easy way of displaying large image collections on desktop computers and touch enabled devices. The JavaScript based image slideshow with optional full page zoom and FSI TouchZoom support for sharp images at every magnification level offers a perfect solution for presenting hundreds of high-resolution images attractively on every device.
An optional scroll bar below the images provides quick navigation with large numbers of images. You can choose between various flexible presentation types: whether you would like to present your images with a simple scroll bar, need a vertical image carousel or want to use it as a simple catalog display: due to the endless possibilities of customization, you can adapt FSI ThumbBar to your individual requirements easily.
What FSI Thumbbar offers:
Only a single high-resolution source image per page required

Responsive Design – looks great on any device

Easily customizable via CSS and JavaScript API

Extendible with FSI Viewer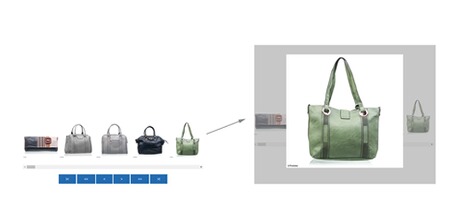 How to easily publish your slideshows on all devices.
FSI ThumbBar is included in FSI Server. After downloading and installing the software, publishing slideshows across all platforms is incredibly easy and takes just a few clicks.
1.

Upload Your Images

Open the 'Upload' Tab and upload your pictures to the web interface via Drag & Drop or by clicking the Browse button to add files.
2.

Choose FSI Thumbbar
Within the 'Publish to Web' Tab you can choose from a variety of viewers based on JavaScript. Choose "ThumbBars" from the presets on the right in order to publish the slideshow.
3.

Paste Codesnip To Your Site

Copy the HTML code which is displayed within the publish dialogue and simply paste it into your website in order to implement the viewer.
How do I get FSI ThumbBar?
All of our viewers are part of our imaging server software, called FSI Server.
Does the slideshow work on every device?
FSI ThumbBar is based on HTML5 and JavaScript and compatible with desktop devices, desktops with touch displays and most smartphones and tablets.
Can I change the look of the slideshow?
The FSI ThumbBar design is very minimalist – but you can change the look with the parameters which allow you to decide if you would like to have the slideshow horizontal or vertical, if you want to have the scrollbar enabled, if the slideshow should look flat or should be displayed with a ring scroll. Furthermore, with the API it is also possible to use an external skin as displayed here.