Dynamic Single Source Imaging with FSI Server – the key to effective online image presentations which saves time, space and costs.
If you take a website selling clothes online as an example, each product picture is provided in different sizes and variations: a medium-sized variation for the product overview, several thumbnail sizes, a full high-resolution detail view, a modified version marked with a "sale" or "new" tag, etc. Normally, all these variations need to be created manually.
With FSI Server, you only need to provide one high-resolution source image – all requested variations including different dimensions, color profiles, overlays and formats are created on the fly, in real-time. No time-consuming batch processing needed anymore!
The variations can be used as images on the website or retrieved by web applications from FSI Server using HTTP queries. FSI Server provides an extensive range of HTTP commands allowing full control over the delivered image. You can also replace content any time – without any delay. After changing the content on the FSI Server software, your website visitors will be provided with the changed content in an instant.
With the accompanied viewers, which can be flexibly chosen, you can present single images, zoom images, virtual 360° spins, galleries or interactive catalogs all in one solution and on any device. Read more about Dynamic Single Source Imaging.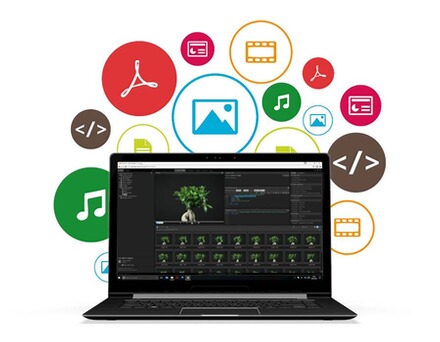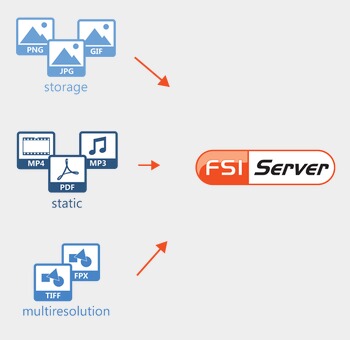 Organize all your website related images and assets in one place.
FSI Server allows (besides the upload of images such as PNG and JPG) managing and serving of static files like PDFs, music and video files, which can be accessed via a simple URL.
Multiresolution files such as TIFF or FPX files can also be uploaded and accessed by using the same URL syntax you would use for imported images. This feature is primarily aimed at customers with a large stock of multiresolution images and makes it easier for eRez users to migrate.
Fast, flexible, affordable and scalable.
FSI Server has been developed with a focus on image quality and performance. It is also designed for outstanding scalability in order to offer a made-to-measure solution which fits your needs perfectly. Whether you need multi-server setups or load balancing – in combination with a traffic server millions of images can be delivered and even high traffic situations will be no problem.
Regardless how big your images are – FSI Server is the fastest image server on the market. When it comes to zooming, only the image data required to display the current image section is loaded from the server, providing incredible detail at low bandwidth usage. With this technique, even gigapixel images can be explored online within seconds – in order to ensure a seamless user experience.
We offer tailored solutions of soft- and hardware suitable for every type of business. You can have a look a selection of our most popular packages here.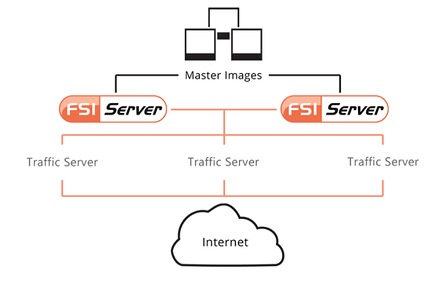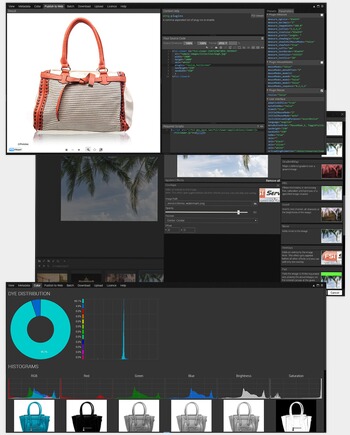 Explore our convenient and powerful web interface.
A convenient HTML/AJAX based web interface enables you to upload, manage and publish all your website images and assets from one source.
It comes with a handy publishing feature, which makes it easy to generate the HTML source code which is required to implement the image viewers into your website. The Hyperlink Editor enables you to add hyperlinks to your interactive catalogs.
FSI Server provides various effects, which are available in real-time such as overlays or clipping paths. You can either use the web interface to apply the effects or add effect parameters to the image URL using a server-side script for automation purposes.
Furthermore, you are now able to edit the metadata information of your images directly. Add or modify Exif-, IPTC-, XMP- and custom metadata for all files & directories when they are used within FSI Server context. It is possible to modify metadata of multiple files in one go while the modifications will leave the source images untouched.
Within the web interface, we have created a new tab displaying color information for the images. It is possible to download the ICC profile of an image, as well as checking the dye distribution and various histograms.
Feel free to try out our Demo Server!