Manage and configure all your FSI applications in one instance with FSI Administrator.
FSI Administrator serves as a common interface to administrate and interact with all server side FSI applications and simplifies management of applications on different servers.
All FSI applications you are running can be connected to a single Administrator making FSI Administrator the control center for your FSI applications. It provides a modern web interface using JavaScript and CSS, implying minimum system requirements. Within the framework you are able to monitor FSI applications, keep them up to date and configure them conveniently.
FSI Administrator uses encrypted SOAP messages over HTTP to communicate with the connected FSI applications and therefore offers maximum security while retaining minimum requirements to the network infrastructure it is used in.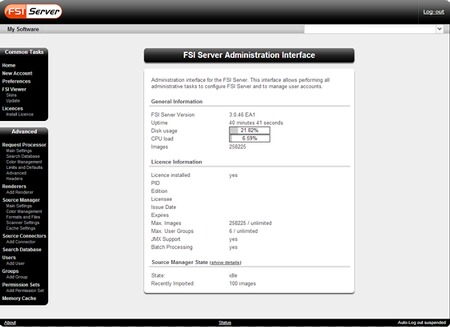 ---
Advanced user rights management made easy.
Furthermore, you are able to manage your FSI Server users via the Administrator: you can set up gradient and complex user, group and source connector permissions and properties. This enables you to control user rights in a precise and convenient way.