Present your images in interactive, customizable galleries.
If you would like to present large collections of images, the FSI Showcase Add-on to FSI Viewer Flash comes in handy: FSI Showcase integrates a resizable scroll panel into FSI Viewer, and displays automatically generated thumbnails of multiple high-resolution images. When clicking on a thumbnail, the image will be displayed in FSI Viewer, offering its incredible magnification possibilities.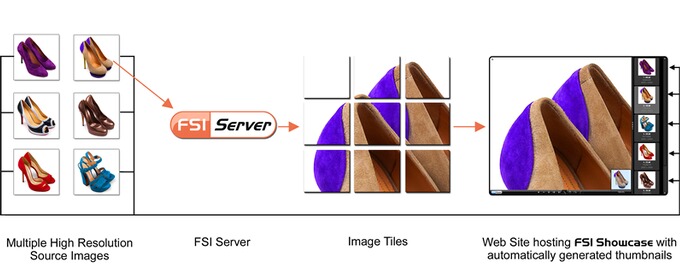 ---
Combine the benefits of 360° product spin and zoom with interactive product tours – all in one place.

You can easily present hundreds of high-resolution images using only a single viewer instance. FSI Showcase automatically requests the required thumbnail images from FSI Server, which makes authoring a showcase nothing more than listing up the images you want to present with FSI Showcase.

The image lists can either be manually defined or requested from FSI Server, which has a built-in support for image lists based on an image directory or a database query.

FSI Showcase can also be used to point out different sections of a single image by presenting these sections in the thumbnail bar. This allows creating interactive product tours, enhancing specific product features or highlighting single objects in bundle images.
---
Highly customizable, intuitive and multilingual.
FSI Showcase combines all benefits of FSI Viewer with additional features. The clear layout of the interface elements makes the usage self-explaining and intuitive. It is highly customizable via XML-configuration files or HTML parameters. Custom skins are also available, this makes it easy to incorporate the viewer into the individual website design.
FSI Showcase has also been designed for use with different user interface languages. Languages packs can be included at runtime just like FSI plug-ins. Currently, FSI Showcase ships with 17 different languages; additional languages are available upon request.
FSI Showcase, FSI Viewer and FSI Server are highly scalable. This allows using them with small amounts of images as well as using the server and viewers in high load environments, like in online shops with thousands of images. This makes it easy to present even large high-resolution image collections.