Experience high-resolution image zoom and 360° product spins on any device.
Being able to zoom to any detail on all sides of a product is almost like holding the product in your hands – with FSI Viewer, zoom and 360° product spins are brought to any device, such as desktop computers, Android™ and iOS™ cellphones and tablets. The JavaScript-based viewer provides a minimalistic, highly-customizable user interface which is easily adaptable via CSS.
Displaying 360° product spins works exactly like single image zoom – only with the additional option of spinning the object. You can zoom into all details from all angles and the required image data will be streamed on demand while ensuring fast page load even on mobile devices.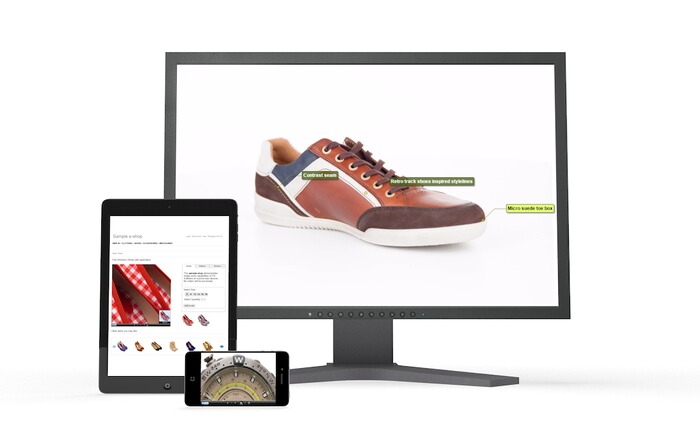 ---
Virtual 360° spins make you feel like holding the product in your hand.

Providing 360° spins makes it easier for customers to decide if they would like to purchase a product compared to display a single product image. The interactive combination of spin and zoom enables them to view the product from all sides, explore every detail and see the highlights of a product without the need of visiting a store.
Whether it is clothing, where every seam and button can be closely examined, or a notebook, where all ports can be checked – virtual spins will enrich the customer experience.
All you need are multiple photos of an object from different viewing angles. For automation solutions we recommend the photo robotic equipment of our Czech partner fotorobot.cz.
---
Create outstanding product presentations with hotspots and ultra-smooth spin.
For ultra-smooth spinning, it is also possible to add an additional video of the product spin. Combined with the spin images, a super smooth spin experience will enhance your product even more. An optional hotspot function enables you to make your product presentation more informative as it highlights special features of your product. You can fully customize the hotspots via XML.
---
Benefits at a glance:

JavaScript based
included in FSI Server
brings outstanding zoom and spin qualities to all types of devices
highly customizable user interface (CSS)
in place zoom or pinch zoom support – depending on the device capabilities
optional multiple axis spin supported
optional video support for exceptionally smooth spin rotations
optional Hot Spots, fully customizable via XML